Trade Hire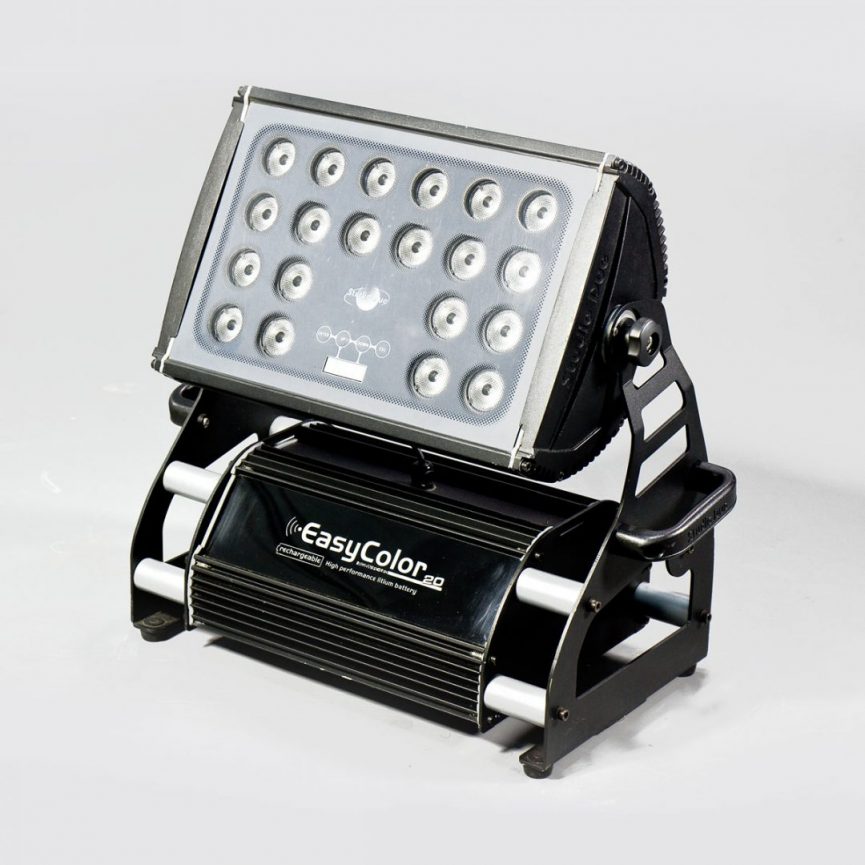 Studio Due EasyColor 20 RGBW/FC LED Colour Changing Flood Light
£30.00 ex VAT per day
£90.00
Stock: 12
Price not inclusive of delivery.
Free collection available.
The Studio Due EasyColor is a highly versatile indoor or outdoor colour changing floodlight. It is useful in a wide range of situations; hanging from a truss for a room wash, uplighting large props or even outdoor architectural lighting. The battery, combined with wireless DMX control means that these colour changing floodlights can be placed quickly and neatly as needed. The long run time ensures your event will never be left in the dark.
Specifications:
RGBW LED source
Built-in WDMX receiver
DMX Channels: 4, 5 or 9
DMX Connectivity: 3pin, in and out via supplied adapters
Stand-alone RGBW colour mixing available
Master/Slave mode available
Beam Angle: 20o
Tilt: 220o (manual)
IP66, suitable for outdoor use
Approximate Charging Time: 7 hours
Approximate Run Time: 10 hours
Supplied with safety bond and quick clamp to allow hanging of unit
Hanging bracket available for the head, allowing removal of battery pack (requires mains power).
Charging also possible via individual power cables.
Key Features:
Power Input: 16A T-Line
Power Usage: 250W
Unit Weight: 25kg
Dimensions: 1500mm(w) x 650mm(d) x 700mm(h)
Transport Weight (Box of 4): 170kg
Further Details: