Trade Hire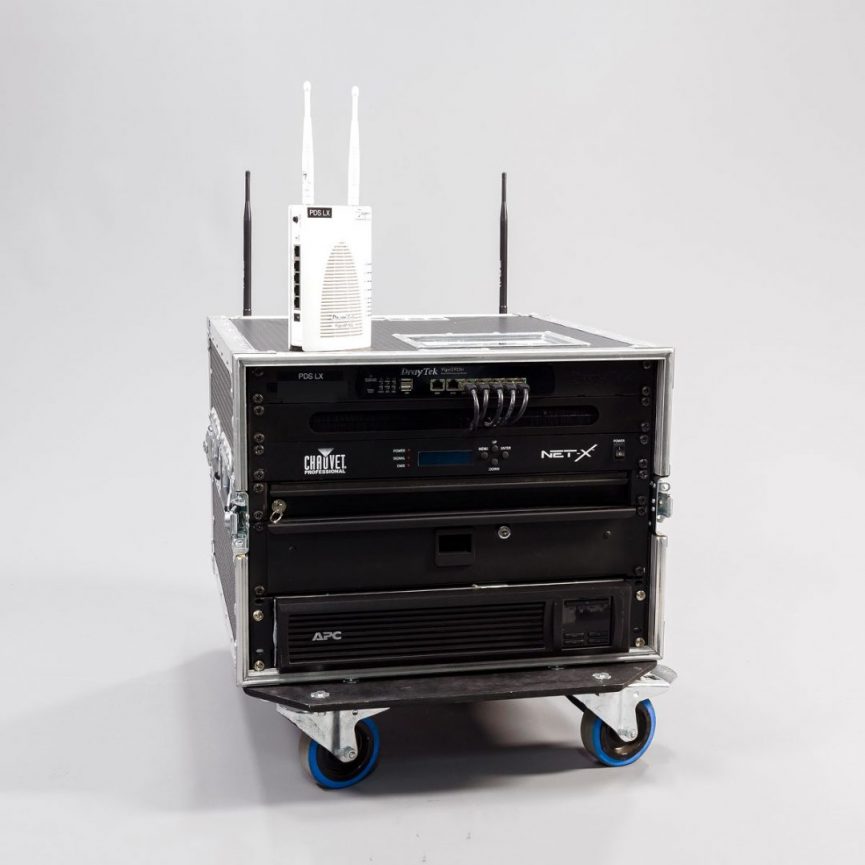 Lighting Data/Backup Rack
£60.00 ex VAT per day
£180.00
Stock: 1
Price not inclusive of delivery.
Free collection available.
Our Lighting Data/Backup Rack is designed to be a two in one FOH lighting support rack. One half offers a UPS to protect against power failures to critical lighting infrastructure. The other half adds a multitude of network functionality featuring a Chauvet Net-X sACN/Art-Net node as well as a router offering two networks; one for sACN and one for remote control of the lighting desk. Aerials and an access point are provided to further increase the range for remote control of a lighting desk via an iPad. Overall the Lighting Data/Backup Rack is an ideal backbone to modern complex lighting control systems.
Specifications:
Front:

DrayTek Vigor 2925n running two networks:

One sACN network from IP:2.0.0.1
One Titan network for remote control of desk on IP:192.168.0.1

Chauvet Net-X
APC Smart UPS

Rear:

Power in/out-through
Network patch

3x sACN EtherCON ports
2x Titan EtherCON ports (one with PoE)

Passive comms split
Net-X connections

Other:

Access point and aerials provided to increase network range.
Key Features:
Power Input/Output: PowerCON
Dimensions: 530mm(w) x 710mm(d) x 530mm(h)
Transport Weight: 70kg
Further Details: